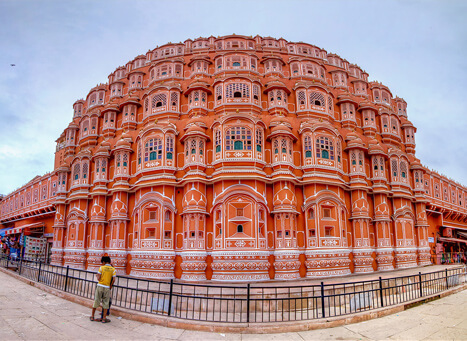 Sightseeing Tour of Jaipur
Jaipur, the capital of India's largest state, Rajasthan, was built in the 18th century by Sawai Jai Singh. Located 268 km from New Delhi, it is a major tourist destination that forms an important part of the famous Golden Triangle tourist circuit. Here in this article, we talk about enjoying the amazing Jaipur Sightseeing tour.
A Collection of Sightseeing Tours in Jaipur
Jaipur's chaotic, colorful streets present a repeating pattern of new and old. Surrounded by fortified walls and rugged hills, the city is full of well-preserved historical buildings and royal heritage. It forms part of the "Golden Triangle" tourist circuit, its wide roads are decorated with majestic statues and impressive palaces.
Great Sightseeing Residence of the Royal Family
The City Palace is located in the heart of the city and is still the residence of the royal family. Jantar Mantar is another popular attraction that has an extensive collection of ancient astronomical instruments. While here, prepare to be awed by the architectural brilliance of the Hawa Mahal and the grandeur of Jaipur's star attraction, the Amber Fort.
On the outskirts of Jaipur is the Aravalli Hills, which offer ample opportunities for trekking at Chouri Ghat and Bhuteshwar Nath. You can also participate in cycling and see the seasonal waterfalls here. Nahargarh and Jalana offer wildlife photography and jungle safari opportunities. ATV rides and zip lining are some other activities that you can try in Jaipur.
Jaipur has a hot semi-arid climate with hot summers and short winters. The monsoon season lasts from July to August and provides more than 63 cm of rainfall per year. The average temperature here is around 25.1 degrees Celsius and can rarely drop below freezing in winter.
Popular Places to Visit in Jaipur
City Palace:
This magnificent palace was built by Sawai Jai Singh between 1729 and 1732. Mubarak Mahal and Chandra Mahal make up the palace complex, the latter is now a museum that houses handicrafts and other items reflecting the rich heritage of the Rajputs.
It is a fine example of Rajasthani and Mughal architecture, with a few remnants of European architecture. From here you can see a wonderful view of the Pink City.
Address: Tulsi Marg, Gangori Bazar, J.D.A. Market, Pink City.
Timings: 9:30 to 17:00, 19:00 to 22:00.
Price: 200 rupees (palace view), 500 rupees (museum).
Amber Fort:
Built by Jai Singh I in 1592, this magnificent marble and sandstone structure is a wonderful blend of Indian and Mughal architecture. You can ride an elephant to the fort and feel like royalty while admiring its intricate architecture.
In the evening, you can enjoy a dazzling light and sound show in the public auditorium. Guest posting sites Here you can also find a temple dedicated to Sila Devi and a restaurant dating back to 1135 AD where you can enjoy the delicious local cuisine.
Location: Devisinghpura, Amer, Jaipur.
Timings: 10:00 AM to 5:00 PM.
Price: 25 rubles.
Nahargarh Fort:
Built on the Aravali Hills, this magnificent defensive fort overlooks the cities of Jaipur and Amer. From here you can enjoy a great view of the cities, which makes it a popular picnic spot for locals.
The fort walls stretch across the hills and are connected to the Jaigarh fort in the distance. You can stand on these walls and witness a beautiful sunset surrounded by rich history. This fort, along with Amer Fort and Jaigar Fort, served as a ring of defense for the city of Jaipur in the past.
Address: Krishna Nagar, Brahampuri, Jaipur.
Timings: 9:00 am to 4:30 pm.
Price: 85 rubles.
 Jaigarh Fort:
This defensive fort houses the largest cannons in the entire world. The architecture of Jaigarh Fort, characterized by red sandstone watchtowers and massive barrier walls, is somewhat similar to that of Amer Fort.
Inside, you can find ancient granaries and reservoirs, as well as a modern museum that houses weapons used in past wars. This fort was once the pride of the Rajput rulers and a symbol of their military prowess. From here you can see a beautiful view of the Lake Palace.
Address: Devisinghpura, Amer.
Timings: 10:00 am to 5:30 pm.
Price: 200 rubles.
Hawa Mahal:
A magnificent example of Rajasthani architecture, Hawa Mahal is one of the most popular tourist spots in Jaipur. Built-in 1799 by Sawai Pratap Singh, the English translation of its name is "Palace of Winds" and is explained by its 953 windows that provide ample ventilation from all sides.
In the olden days, royal Rajput ladies used to observe life outside the palace through the window bars. The pillars and overhangs have floral carvings in authentic Rajputana style.
Address: Hawa Mahal Street, Badi Choupad, J.D.A. Market, Pink City, Jaipur.
Timings: 9:30 AM to 4:30 PM.
Price: 50 rubles.
Planning a Jaipur sightseeing tour and around Jaipur. Here is some plan to help you visit Jaipur. So, you can also try the Jaipur Pushkar Jaipur Tour.
Also read: West Palm Beach Has The Top Addiction Treatment Facility