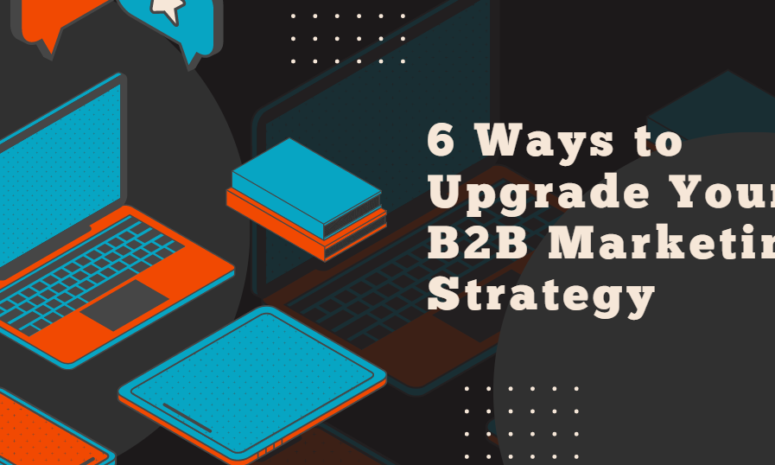 The digital landscape and marketing activities are witnessing an enormous transformation. Every organization, whether B2B or B2C, must prepare, reassess, and implement new approaches as the business climate changes or risks are being swept away. Business-to-business marketing is more complex than business-to-consumer marketing. For instance, sales cycles can be lengthy and arduous, and gaining the confidence of all relevant parties can be challenging. There are many techniques to win over an audience, but one that never fails is simply being genuine and approachable. Let's quickly examine a few B2B marketing strategy that could be improved upon.
As a developing company, one of your marketing goals is to be recognized and appreciated by your intended demographic. Humans, not machines run companies; communicating with them requires a human touch. Gaining the support of those who hold the reins requires establishing a rapport with them on a personal level. Using brand storytelling is an excellent strategy for winning over C-suite executives. It's a strategy used by hundreds of firms, like Maersk, Nike, Airbnb, Everlane, Uber, and Virgin America, to gain new customers. The fashion label Dannijo exemplifies the success that can be achieved when businesses use Instagram to share genuine company culture with their target audiences.
Research also shows that 82% of individuals would rather watch a live video than read a social media post. If you look around, you'll notice that videos are everywhere in the marketing world. And how they've integrated into our regular routines. Videos are excellent at transmitting emotions, and that is why audiences find them more relatable. Research has also revealed that visuals are more likely to be retained by the brain than text. Including videos in your B2B marketing plan is a must. An excellent method to improve your strategy if you already use videos is to start using live videos. As the industry standard in enterprise software, SAP often works with prominent figures in their field and high-level executives on promotional materials. Throughout the year, they host several events where speakers with relevant expertise are invited to offer their thoughts.
Reviews and Feedback from Actual Customers
A survey of B2B brands found that 91% of purchasers said word of mouth impacted their purchasing decisions. According to the same research, 62% of B2B marketers rely heavily on client testimonials. Consequently, when refining your B2B marketing strategy, case studies and testimonials from satisfied clients should be incorporated. Reviews written by existing customers carry a lot of weight because they are based on their experiences with your items. Okta employs this marketing approach quite successfully. On their YouTube page, you can see testimonial videos in which satisfied customers talk about their time working with Okta.
A purchase is the ultimate goal of the buyer's experience on your website. Many businesses employ intricate and drawn-out sales funnels to cultivate relationships with prospective customers and increase the likelihood of a deal being made. It's more of a hand-holding exercise that, if effectively handled, could lead to a sale. Guest posting sites Lead nurturing can also be a continual process to assist buyers in making a choice all through the customer lifecycle. Current accounts can be targeted with renewal efforts, while potential buyers and dormant leads can be revitalized with engagement campaigns. Alignment between sales and marketing, customized emails, timely follow-ups, and relevant content play a role in successful lead nurturing strategies. They suggest using a program like MailChimp or Constant Contact to manage and generate more leads.
Analytics and marketing automation are some beautiful methods by which you can update your B2B marketing strategy. They don't only mean finding out where they live or what kind of people they are. I mean names and contact details also. Such information would be invaluable to your sales personnel. Given that they have shown interest in your site by clicking through, these individuals may be open to what you have to offer. That means we'll be switching to hotter leads. Tools like Visitor Queue make it possible to do this. Below are other ways in which analytics and automation could benefit your company.
Take advantage of programs like Qualaroo to study the buyer personas of people visiting your website.
Thank attendees with a service like Pardot after a conference or trade exhibition.
Use a product like Rebump to automatically send follow-up emails to your prospects at the optimal time.
The use of SurveyMonkey to disseminate feedback surveys is encouraged.
Make Your Content Mobile-Friendly
In 2017, mobile devices accounted for 50.3% of all Internet traffic. It demonstrates how much money can be lost by not prioritizing mobile-friendly content creation. Professional digital marketing companies make up the bulk of your target market and are frequently away from their desks. Therefore, they primarily use their mobile devices to access media. All content and websites used in a B2B marketing campaign should be optimized for mobile use. The text should be large and legible, and the navigation should be obvious. To ensure your site is optimized for mobile users, you can utilize the Mobile-Friendly Test that Google provides. In any other case, you should consult your developers to ensure a satisfying experience for your mobile site users.
Conclusion
No one of the tactics mentioned above is overly complex or sophisticated. However, they are all potent tools that can propel your marketing campaigns forward. To succeed in marketing, you should stick to these guidelines.